Explore Treasure Island
Treasure Island's pristine waters, welcoming hotels, unique restaurants, family-friendly attractions, and its proximity to the cities of St. Petersburg and Tampa make it the perfect destination for your next family vacation.
Treasure Island's best-known attraction is its pristine 3-mile long white sand beach along the Gulf of Mexico. Our gorgeous beach is a perfect place to swim or play or take a long walk along the water's edge. However, if you want to take a break from the surf and sand, then you can walk or ride your bike along the Treasure Island Beach Trail which runs along the east side of the beach and provides access to the Island's motels, restaurants, bars, and shops in the hotel district. If you decide to wander further inland Downtown Treasure Island has shops, restaurants, banks, drug stores, a florist, and grocery store to make your stay comfortable and as close to home as possible.
Below is some area information to help you plan your trip.
Transportation
Getting to and around Treasure Island is easy.
Shopping and Dining
Along with the sun and sand, you'll find diverse and limitless shopping and dining options close to the Tropic Terrace Resort
Johns Pass Village, a turn-of- the-century fishing village, is Pinellas County's #1 tourist attraction, with over 100 merchants, including unique boutiques, a variety of restaurants, fishing fleet, boating tours, a marina, and parasailing and jet ski rentals.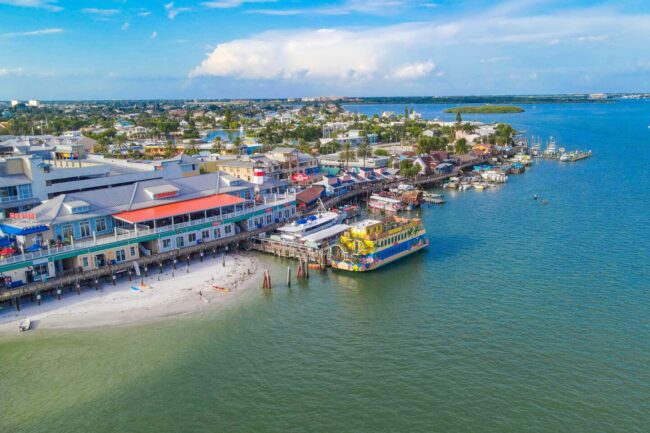 Take a stroll along Gulf Boulevard and get lost in hours of souvenir shopping for yourself or loved ones at any of the numerous beach shops. A longstanding local favorite is Suncoast Surf Shop. Since 1966 Suncoast Surf Shop has been the go-to destination for surfers, swimmers, and skateboarders in the Treasure Island area.
Florida Shell Shop – the oldest shop in Treasure Island — has been treating visitors to a taste of "Old Florida" since 1955. Stop by to find a unique gift or memorable seashell to mark your visit to Treasure Island.
Caddy's Waterfront is one the last true beach bars left in Florida and a must-stop destination when in town.
Just a few minutes walking you can hang out with the locals at Ricky T's for great food, drinks and live entertainment
For a taste of New Orleans in Florida, be sure to check out Shrimpy's Blue Bistro.
Dixie's Dog House is Florida's Oldest Chicago-Style Hot Dog House. They've been serving up Chicago-style hot dogs, Italian beef, wings, sausages, and more since 1970.
To satisfy your sweet tooth or for a sweet treat for the kids stop by Super Scoops. Super Scoops has been serving homemade ice cream and Italian ice in Treasure Island for years. The locals and visitors love it.
For fine dining, you can't go wrong with The Pearl Restaurant or Middlegrounds Grill.
In the mood something spicy?  VIP Lounge & Mexican Restaurant offers Mexican dishes, Tex-Mex style dishes and traditional American favorites. It is a very popular place, entrance by the parking lot.
For your day-to- day needs, the following stores are also located nearby:

Walgreens – 10551 Gulf Boulevard Treasure Island, FL
Johnny's Bait and Tackle – 110 107th Avenue Treasure Island, FL
Atcost Liquors – 9861 Gulf Boulevard Treasure Island, FL
Publix Supermarket – 111 104th Avenue Treasure Island, FL
Chase Bank – 10551 Gulf Boulevard Treasure Island, FL
Fifth Third Bank – 180 Treasure Island Causeway Treasure Island, FL
Citibank – 9695 Gulf Boulevard Treasure Island, FL
Animal Hospital – 155 108th Avenue Treasure Island, FL
True Value Hardware – 10625 1 st Street East Treasure Island, FL
Recreation and Activities
Enjoy outdoor fun for the whole family
Near by attractions
Caladesi Island State Park , in Dunedin, is one of the few remaining completely natural islands on Florida's Gulf Coast. Enjoy swimming, shelling, sunbathing, fishing, hiking, canoeing/kayaking, or camping.
Fort De Soto Park includes over 3 miles of white sandy beaches, boat launches, camping, a 2,200 foot Barrier Free Natural Trail (with over 328 species of birds), a historic fort and museum, and daily ferries to Egmont Key.
Sand Key Park has a beautiful beach area and also a park area with shelters, grills, a playground and a dog park.
Boca Ciega Millennium Park includes running trails, access to fishing , a 35-foot observation tower with 360 view of the Boca Ciega Bay, picnic shelters, bike paths and canoe launch. The park is a stop on the Florida Fish and Wildlife Conservation Commissions "Great Florida Birding Trail".
Seasonal events and Festivals
For a complete list of things to do in the area and a daily schedule of events, visit:
http://www.visitstpeteclearwater.com
Copyright © 2020 Tropic Terrace – All Rights Reserved.